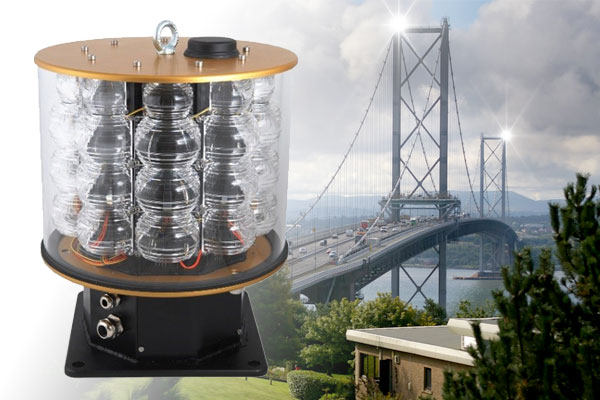 High Intensity LED Obstruction Lights & Obstacle Lighting (Aircraft Warning Lights)
ICAO High-intensity, 50 000cd, stand-alone, LED Aviation Obstruction Lights.
Contarnex high-intensity omni-directional obstruction light is designed to mark tall structures such as wind turbines, towers, and masts. Contarnex high-intensity 50 000cd stand-alone unit has an integrated Day/Night switch and flasher. Additional options such as GPS synch., infra-red, and Ethernet interface available on request.
Key features
▪ Based on LED Technology
▪ Provides 50 000cd White Flashing at Day
▪ Heater as an option for cold climate
▪ Stand-alone light - no external cabinets required
▪ 5 Year Warranty
ICAO HI 50,000cd High Intensity Lights (Stand Alone )

Order Code
Colour
Nominal
Intensity
Operating
voltage
Power
Photocell/
flasher
Fault
Monitoring
Description
Datasheet
CEL-HI-50KWD-230-A
White
50,000cd
230VAC
160VA
Opt
Opt
White High Intensity: TraFi
Download
CEL-HI-50KWD-230-A
Red/
White
50,000cd/
2,000cd
230VAC
160VA
White High Intensity: TraFi
Download
ICAO HI Type B 100,000cd High Intensity Lights (Stand Alone )

Order Code
Colour
Nominal
Intensity
Operating
voltage
Power
Photocell/
flasher
Fault
Monitoring
Description
Datasheet
CEL-HI-100KW-115-A
White
100,000cd
110VAC
280VA
Opt
Opt
White High Intensity: ICAO Type B
Download
CEL-HI-100KW-230-A
White
100,000cd
230VAC
280VA
Opt
Opt
White High Intensity: ICAO Type B
Download
CEL-HI-100KWD-115-A
Red/
White
100,000cd
110VAC
280VA
Opt
Opt
White High Intensity: ICAO Type B – Red Medium Intensity Type B/C
Download
CEL-HI-100KWD-230-A
Red/
White
100,000cd
230VAC
280VA
Opt
Opt
White High Intensity: ICAO Type B – Red Medium Intensity Type B/C
Download
ICAO HI Type B 100,000cd High Intensity Lights

Order Code
Colour
Nominal
Intensity
Operating
voltage
Power
Photocell/
flasher
Fault
Monitoring
Description
Datasheet
CEL-HI-100KW-x
White
100,000cd
LHC
150VA
-
-
White High Intensity: ICAO Type B
Download
ICAO HI Type A 200,000cd High Intensity Lights

Order Code
Colour
Nominal
Intensity
Operating
voltage
Power
Photocell/
flasher
Fault
Monitoring
Description
Datasheet
CEL-HI-200KW-x
200,000cd
LHC
312W
-
-
White High Intensity: ICAO Type A
Download
CEL-HI-200KW-2KR-x
200,000cd
LHC
312W
-
-
White High Intensity: ICAO Type A – Red Medium Intensity Type B/C
Download